Junk Food Clothing Co. is proud to announce the opening of its flagship store in Venice, CA for spring 2014. On May 3rd, the 2,700 sq. ft. store opened its doors on renowned Abbot Kinney Boulevard, offering its iconic premium tees for men, women and children in one location. Junk Food Clothing Co. also carries a variety of third party brands that complement its aesthetic, including Genetic Denim, McGuire, Baggu and Ralph Lauren to name a few.
"I'm really excited about the opportunity to bring the essence of Junk Food to life on Abbot Kinney. The core of our brand's DNA is to deconstruct iconic elements and inject a modern unique storyline for the consumer. Adapting these design principles to a three dimensional space was the ultimate culmination of the evolution of the brand," says Mike Palermo, Creative Director of Junk Food Clothing Co.
Junk Food Clothing Co. sought to create a union of vintage iconic imagery, modern interpretation and surprise technological twists to paint the perfect picture in its first ever retail location. Housed in a building from the early 1900's in a historically rich beach town, the design of the flagship space was created to reflect both the heritage of the location and the brand.
A combination of natural wood tones paired with white plaster washed, antique brick walls create the feel of the quintessential modern beach house. Mid-century modern fixtures add to the foundation of this idea as the overall muted palette juxtaposed with bright pops of color allow for the interesting lines and textures of the walls to accent the clothes.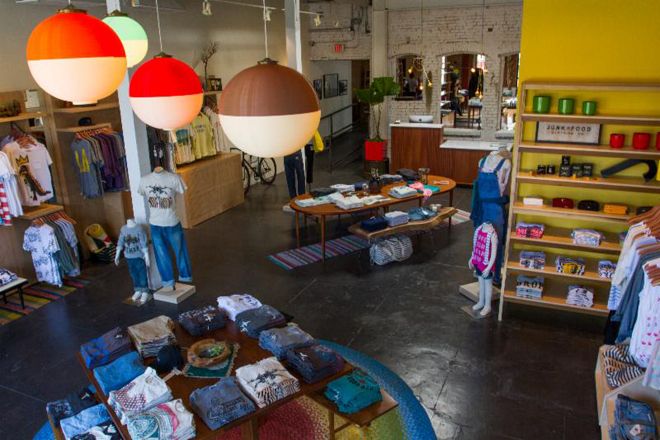 The space, designed in partnership with Danny Gonzales (known for crafting interiors and displays for such brands as Ferragamo, Fendi, Cartier, Armani, and Bottega Veneta), is divided in two sections: the main area in the front will highlight men's and women's apparel and accessories, while the rear section will focus on kids, bath and beauty, and eyewear in the main space.
On the opposite side of the room, handcrafted "abacus" racks suspended from the 15′ ceilings with hand carved 6" beads float along the piping. Custom lighting was created for most of the store with two pendent lights highlighting the cash wrap while Sputnik-inspired "spider web" lighting adorns the back. In the sitting area, Junk Food carried over their "abacus" idea creating glass-beaded pendants out of hand-blown glass beads silvered in stages to create a tri-tone effect.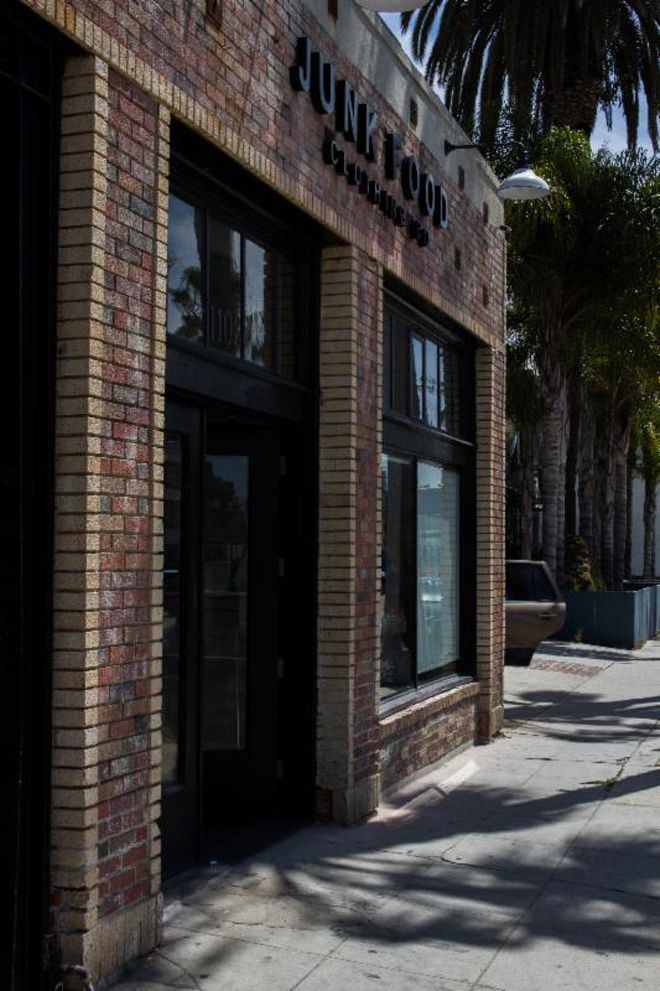 Junk Food President Jennifer Somer gave some insight to the company's decision to open a flagship at this point in time, stating, "This store represents the exciting next step in the evolution of the Junk Food brand. Since it's inception, Junk Food has always evoked an aspirational lifestyle rooted in classic American references. This store gives us the opportunity to bring the brand vision to life in its entirety."